procedures of laser correction (Lasik, FemtoLasik, Epi-Lasik) were performed  by our doctors
lenses ortok were fitted  by our optometrists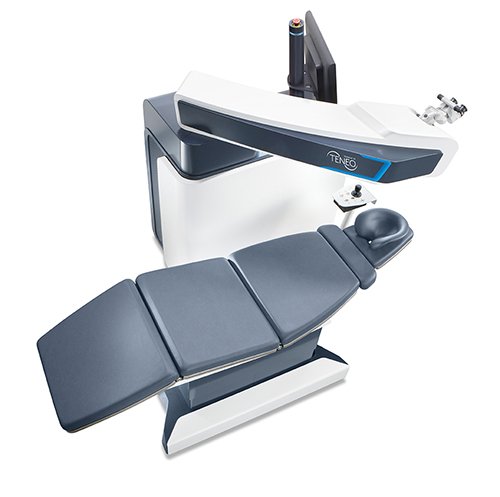 In January 2015, the Nowy Vision Clinic was the first in Poland to introduce a device for laser vision correction of a new generation – Teneo 317 Excimer Laser
Our equipment
The most common vision problems are:
Myopia
25%
Hyperopia
14%
Astigmatism
9%
November 15 to fulfill my biggest dream: glasses have gone to rest (-7)!. Surgery took place in August in a very friendly atmosphere and TOTALLY bezbolesnie.Najwiekszym, a pleasant surprise was the fact that after removing the dressing (an hour!) Saw any words that are in the office! szcaęścia That can not be expressed in words, it can only be compared to the most beautiful music, the exciting dance. Thank you!
I have two teenage sons who use ortosoczewki. They are both very happy with the result. They lead a very active life, often travel for sports camps and eye always bother them. It can function as their peers who never wore glasses. I believe that the method is so great with full responsibility – I recommend.
LASIK is one of my best investments, but really life without glasses is priceless. For me, the impossible became possible. I have gained much more than a new look – I got a new life.
In July of 2012 years went surgery laser vision correction clinic FemtoLASIK by New Vision in Warsaw. It is quite expensive method but it's really worth it. My vision defect was -3.0 and -3.5 after surgery on the next day I saw everything clearly. The treatment was painless and express. Of course you should also mention the hospital staff, who carry out their duties professionally as possible. The patient may feel as if you were at home (up to leave regret ;). I will always remember what the clinic has done for me, and frankly I will recommend it to all those who also want to change your life.
I decided on laser vision correction surgery in April. I did not hesitate even for a moment, when I heard about this possibility. Establishment of glasses for me was the greatest punishment, so as soon as I could but it wore them in her purse. Until the time when I did not recognize friends on the street. Besides, I love to spend active time: walking in the mountains, ride a bike, swim and goggles made me very limited. To enjoy the beauty of nature had to be set up, and then I felt like a dog, which is assumed to muzzle. I was unhappy…
I train karate, which is a contact sport. It's impossible for me was the use of glasses during a workout and contact lenses was not quite safe option. Friends have told me that their son used ortosoczewki. I must admit that I was interested in the possibility of a correction during sleep – it's such a time saver. After a week of the lens literally could not imagine life without them. This is a fantastic method. I feel like I've never had a visual impairment. And as for me, the most important in the end I can train without restriction
For many years, I was thinking about surgery. I had many doubts, in the end it was the eyes. But I changed my mind when I called New Vision Center. Already rejestratorki were able to answer many of my questions, which is not often the case. During the qualifying examination, the doctor devoted my time and the end dispelled my doubts. The procedure itself was not as scary as it might seem. I rested a few days and returned to normal life. The world seemed to me more beautiful!. No longer confined me glasses, did not have to wear the lenses. While it may sound ridiculous, I felt free!
Have undergone laser vision correction in August last year. I had astigmatism, and glasses and a large defect in my sight was a nightmare. Already on the second day after surgery I felt good as new! Until now, I did not know that the world can be seen in the field, and finally fulfilled one of my little dreams … glasses, but … Sunscreen! 🙂 And now, with the utmost sincerity, I can say that this procedure was the best investment of my life! I am very happy! Thank you!
November 13, 2012 I went on a laser vision correction procedure. The procedure was performed on the equipment of high quality – or so it appeared. Care before and after the procedure is simply a fairy tale, we all care about you and not just in the first week, but until complete recovery. Sorry, you need to be friends with drops for a few months, but it's definitely a better friend than glasses. If there is any problem or question it was always possible to contact…
For several years, I wanted to get rid of glasses. I've read a lot about laser correction, but all procedures relating to the eyes were beyond my strength. Finally, I came across a New Vision Clinic page and read an article about ortosoczewkach. The method seemed very interesting, so I decided to try it. Using the lens a few months and I am very happy. During the day, I do not need glasses. I think it's a great solution for all those who, like me "chickened out" before surgery.
I came to the clinic by his cousin, who a few years ago, underwent surgery, and strongly urged me to do the same. We can say that from 10 December 2009, see the world differently, better. Life without having to wear glasses is enjoyable. Wellbeing owe Dr. Staniewiczowi that the day of surgery your sensitive approach to patient calmed me and made me run away – out of fear, of course.
Last year in April I went through vision correction surgery at a clinic in New Vision. Maybe it is expensive, but well worth it. Lenses are not so great. She had a deformed cornea from wearing them. Fortunately, I did the treatment. Gone are the lenses, eye irritation, and I wear glasses kindergarten to remember how it was for 20 years with poor eyesight. I would urge undecided on abortion. It is really worth, and after that it does not hurt and takes very little time!!!
When I first heard about Ortokorekcji, I could not believe that vision correction can take place in a dream. But I decided to try it. The study did not have to wait long, and the lens I could buy it in the same day. I must admit that after the first night of use I experienced a shock – the difference in vision was astonishing. After less than a week, I saw even better than with glasses. Ortokeratologiczne lenses are fantastic – I would not trade them for any other method. Recommended!

Jan Staniewicz
MD, eye surgeon
A graduate of the Department of Medicine, Medical University of Gdansk. In the years 1994-2002 Assistant in the Department of Ophthalmology at the Specialist Hospital St. Wojciech in Gdansk, from 2002 to 2006 the head of the Department of Ophthalmology Hospital in Chojnice. He specializes in surgery of the anterior segment of the eye, including the eyelids and cataract surgery. Since 2003, working with New Vision Ophthalmology Centre where laser correction procedures performed by LASIK, intraCOR and diagnostic testing and monitoring for treatment.
Our doctors